By Mrs. Chanah Rose
As the final installment of our four-part Chinuch series on teaching Tefilla, we present a list of tips and resources.
Students often ask for practical tips for how to have more kavana in Davening. Luckily, Halacha and Chassidus provide us with many! Here are a few:
Daven out loud, so that you can hear the words.

Daven with a Niggun. This is a fundamental

derech

in Chassidus!

Learn Peirush Hamilos – the literal translation of the words.

Help children/students practice finding familiar Shorashim and attempting to translate the words, so it feels more familiar and they learn that it is worth a try. You can call this being a "Tefilla Detective!"

Choose one part of Tefilla to concentrate on at a time. When you focus on a different paragraph each day or week, Hashem combines all of our Tefillos and it is as though we davened the whole Tefilla with

kavana

each day!

Look inside –

osiyos machkimos

, the letters make us wise. The Rebbe surely knew the Tefillos by heart, but always looked intently inside the Siddur!

If you can't Daven in shul with the Minyan, try to Daven at the same time as the Minyan even if you are elsewhere, as this is an

eis ratzon

.

Have a set place – a spot in Shul, a corner of your house, a certain chair etc. – where you Daven.

Don't rush into Davening, but pause for a moment to remove your mind from your day to day thoughts and worries. This may seem hard, but a person knows that in order to fall asleep, they have to put their daytime concerns out of their mind. Similarly, we can succeed in doing so before Tefilla!

Learn some Chassidus before Davening, even a short thought or paragraph.

Take your time whenever possible! Linger over the words. Give them time to sink and uplift you.

Give Tzedaka, say Hareini, and look into your heart to ensure you feel united with your fellow Yidden, so that our Tefillos can flow freely without obstruction.

Ask Hashem for help in having Kavana!
These tips are culled from a variety of sources, which were omitted for clarity and ease, but are available upon request.)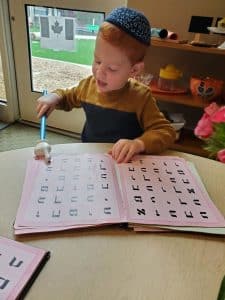 Resources for Learning and Teaching About Tefilla
This is a non-exhaustive list of Seforim, resources, and teaching tools for the topic of Tefilla. If you know of more that are not on this list, please reach out to [email protected] so that we all can benefit.
HaTefilla V'Ha'Avoda, by Rabbi Yekusiel Green

Hayom Yom – look up Tefilla in the index of topics

My Prayer, by Rabbi Nissan Mandel

Talelei Oros

EmBRace Magazine – special issue on Tefilla

Chinuch Concepts Tefilla Curriculum for elementary school, by Mrs. Shaindy Schapiro (Contact [email protected])
Ready, Set, Daven! A Guided Journal: Daily Thoughts to Inspire Your Davening, by Ms. Liba Rimler (Available on Amazon.)
My Tefillah Journal: A Fun and Engaging Tefilla Workbook, by Mrs. Leah Sollish (Available on Amazon.)
Tefillah Power! A Creative Jewish Prayer Journal and Curriculum, by Chana Voola (Available on Amazon)
Tehillim Garden: Inspirational Coloring Book for Tranquility with Verses from Tehillim, by Chana Voola (Available on Amazon)
The G.R.O.W. Method by Mrs. Nechama Laber, including curriculum, planner and resources (GROWConnectionNetwork.com)
Short Video on Making Tefilla Meaningful, with Mrs. Shaindy Schapiro
Short Video on Making Tefilla Meaningful, with Mrs. Sara Blau
"A Moment of Silence: Not Just for Public Schools" by Mrs. Rena Udkoff, and "A Moment of Silence for Our Own," by Rabbi Chaim Yitzchok Vogel