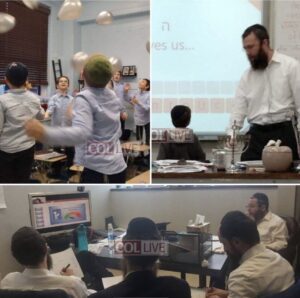 Would you agree that at the "Heart of Chinuch" today is giving students a solid foundation in social-emotional skills and well-being?
When the Menachem Education Foundation (MEF) took this question to many leading Mechanchim and Mechanchos, therapists and Mashpiim, they answered a resounding yes. In response to this urgent need, and with seed funding from anonymous donors who want their children to grow up in an emotionally healthy environment, a new social-emotional program tailored to the needs of our community was born.
The program is being developed with a team of consultants including Rabbi Yanky Raskin LMSW, student liaison at Oholei Torah, Rabbi Dovid Dinerman BCBA-LBA, a special-education teacher and teacher trainer in several Crown Heights schools, Mrs. Shiffy Landa, a veteran educator and Shlucha in St. Louis, Missouri, and Mrs. Nami Friedman, assistant principal in Yeshiva Schools of Pittsburgh.
Mrs. Friedman echoed other's sentiments when she shared, "In my opinion there is no more noble a mission and no more lofty a pursuit than ensuring that the adults of tomorrow are healthy, sound in body and mind, equipped with the tools to navigate life as wholesome people. I am so grateful to be part of this work."
So far, MEF has hired Mrs. Henny Bartfield, a beloved educator for more than two decades in Margate, FL, and currently an educational therapist, to spearhead this program and craft a multi-sensory curriculum for elementary school. Using the word C.H.I.N.U.C.H. as an acronym, Mrs. Bartfield articulated seven keys that are at the heart of building students who can be emotionally healthy and receptive to everything else they are taught.
"Educating Mechanchim and Mechanchos in the realm of SEL (social-emotional learning) will enable us to actualize the Friederker Rebbe's vision in Klalei Chinuch V'hadracha," shared Mrs. Bartifled. "Fortifying our children with the tools they need to navigate the world they live in, will enable them to channel their knowledge and talents to leave a positive impact."
Instead of creating a program from top down, this program is being developed collaboratively with teachers in four Chabad Schools around the country. Cheder Menachem of Los Angeles and Cheder Chabad of Philadelphia are partner schools implementing this program in their primary grades, with additional teachers piloting the curriculum in Torah Day School of Houston and Cheder Lubavitch of Morristown. As each lesson is created, these teachers are excited to try it out, and share their feedback and insights. This feedback loop ensures that when the program launches community-wide, it will be an ideal fit for our teachers and classrooms.
"This program is unique" says MEF Educational Director Mrs. Chanah Rose, "because it is being developed in conjunction with our schools and teachers to make sure it works, is based on fundamental principles of Torah and Chassidus, and aligns with the vast body of research and best practices that have been developed in this area."
In addition to weekly lessons and daily reinforcement, a special emphasis is being placed on teacher development and modeling, since educators set the tone for an emotionally safe learning environment where students can thrive and grow.
Rabbi Yossi Zeidman, a teacher piloting the program in Morristown, NJ, says, "I've been very excited to implement social and emotional learning in my classroom. The boys enjoy our learning, activities, and song. It's great having such a program that is based on Chassidus and created for chassidishe mosdos, and many parents were excited to hear we were bringing this to Kita Daled."