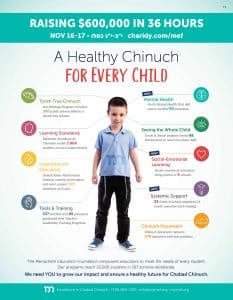 At many Shabbos tables, you can find people discussing what might be the one key to improving Chinuch. "We need trained teachers!" "But, teachers need principals to empower them." "Our bochurim need to learn how to learn," some comment, "so that they can feel successful as Yidden and as Chassidim." "Sure," others respond, "but if we don't teach them how to be emotionally healthy, how can they feel successful?" "But what of the tuition crisis," goes the outcry, "to even get them through the door?"
Today, the Menachem Education Foundation is the sole organization in the frum community addressing Chinuch on all of these fronts. With programs for Teacher Training, Principal Training, and even executive level training for Heads of School and board members, they've got every member of the school community covered. Annual Chinuch Conventions and monthly farbrengens connect, inspire and empower educators for their vital Shlichus.
Through new programming for social-emotional learning (The Heart of C.H.I.N.U.C.H.) and mental health awareness (Teach and Reach, and the Youth Mental Health First Aid Course), MEF equips educators to address some of our community's most timely and pressing needs. As for getting students through the door, the Our Heritage matching tuition grants program aims to enroll 200 Jewish students currently in public school into Jewish Day Schools this year.
While MEF leadership feels the urgent need to grow their impact, it's abundantly clear that just like nurturing a child's physical health requires many, diverse, and constant inputs – you can't argue about whether eating, drinking, or sleeping are the one key to good health – MEF believes that a healthy Chinuch requires strong and sustained investment and support on all fronts. For this reason, MEF launched its "Healthy Chinuch for EVERY Child" campaign, and raised $684,675 it's largest fundraising goal yet, for a year of growth and expansion in every area of Chinuch.
"When I founded the Menachem Education Foundation," says founder and Executive Director, Rabbi Zalman Shneur, "I had a vision that we, the global Chabad community, needed to focus our efforts and energy on the Chinuch of our children. Looking back at the past thirteen years, I've been blessed to have connected and partnered with tremendous individuals, educators of the highest caliber, and donors with the greatest generosity, who have tirelessly worked together with us to make this vision a reality."
With expanded horizons impacting new areas of Chinuch, the goalpost for this year's fundraiser was higher than ever before. "We embarked on our biggest journey of raising $600,000 in 36 hours," comments Rabbi Shneur. "We knew we could meet this goal because we are blessed with amazing supporters."
With every dollar matched x3, supporters chose to sponsor any MEF program – including a tuition grant, Kinus Mechanchos, leadership summit, teacher coaching session and more – or support the cause as a whole. 60 teams raised funds out of North and South America and as far as South Africa and Australia, the community rallied behind the shared vision of a healthy Chinuch, a healthy community, and a healthy future.
On behalf of 22,000 children in 167 schools worldwide in MEF's current reach, thank you.