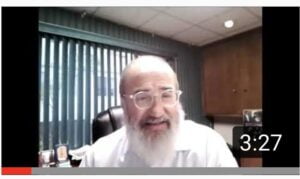 "The Menachem Education Foundation has provided me with a ton of support, mentorship, and courses which empowered me to lead the school and see it double in size," shared Rabbi Mendy Levin, principal at Cheder Chabad of Philadelphia, at MEF's VIP virtual kick off event for their annual Charidy campaign.
Rabbi Levin, along with over 130 friends and supporters of MEF, joined the Menachem Education Foundation, as they introduced their largest-ever fundraising campaign, where they raised $684,675 in 36 hours. The campaign highlighted the theme of "A Healthy Chinuch for EVERY Child."
At the event, star educators shared how they and their students were personally impacted by the work, programs and support that MEF provides. Presenters included Rabbi Mendy Levin, principal at Cheder Chabad of Philadelphia, Rabbi Levi Kaplan, principal at Cheder Chabad of Monsey, Rabbi Yossi Mintz, director of Academy of the Arts, Redondo Beach, CA, Mrs. Nami Friedman, assistant principal at Yeshiva schools of Pittsburgh, Mrs. Tzirl Goldman, Mechaneches at Bais Rivkah High School, and Mrs. Laya Raskin, teacher and leader in Bnos Chomesh Academy.
"We have been so blessed to be involved with so many passionate individuals who support our work, and make sure that Chinuch is at the forefront of our minds, ensuring that our children receive the Chinuch they deserve. The general Chabad community is the reason we are matzliach," added Rabbi Zalman Shneur, MEF's founder and executive director, as he thanked the generous donors and educators he works with daily.
Mrs. Nami Friedman said how inspired she was by MEF's annual Kinus Mechanchos last summer, while Mrs. Laya Raskin thanked MEF for teaching Mechanchos how to "reach the whole child" through their new "Teach and Reach" teacher training program.
Mrs. Chanah Rose, MEF Educational Director, presented about how MEF used the money they raised from last year's campaign, and the future projects they plan to spend on.
"I am blown away by the comprehensive, multi-faceted approach of the different activities they are involved in," said Mr. Alan Zekelman, chairman of the Menachem Education Foundation's board of directors. "MEF connects to people by opening their hearts in the right way. The social-emotional program is filling a big need, and as we bring kids into Chabad schools through Our Heritage, we will help them see the love and warmth of a true, Jewish educational environment."
Mrs. Tzirl Goldman, Mechaneches at Bais Rivkah High School summed up the importance of MEF's work in Chabad Chinuch: "Every dollar that goes to MEF doesn't just benefit one person, it benefits the teacher and the student, which will lead to generations of people leading their lives according to the Torah."