After several months of moving their classrooms online, transforming their lesson plans, multi-tasking and dealing with challenges at home and at school, which teachers would want to go back on Zoom during their summer break?
550 Mechanchos who joined the 5th Annual Kinus Mechanchos Chabad.
The Menachem Education Foundation hosts an annual Kinus to energize educators, provide tools and resources, and show them the appreciation that they deserve for their vital Shlichus. "We tried every option we could to be able to hold the Kinus in person, as usual," says Educational Director Mrs. Chanah Rose. "But once we announced that Zoom was the only way forward, we were surprised to see the excitement from teachers all around the world who could now join."
In a truly international Kinus, Mechanchos logged in from Australia, South Africa, England, France, Belgium, Hungary, Brazil, Argentina, Canada, and twenty six states in the U.S.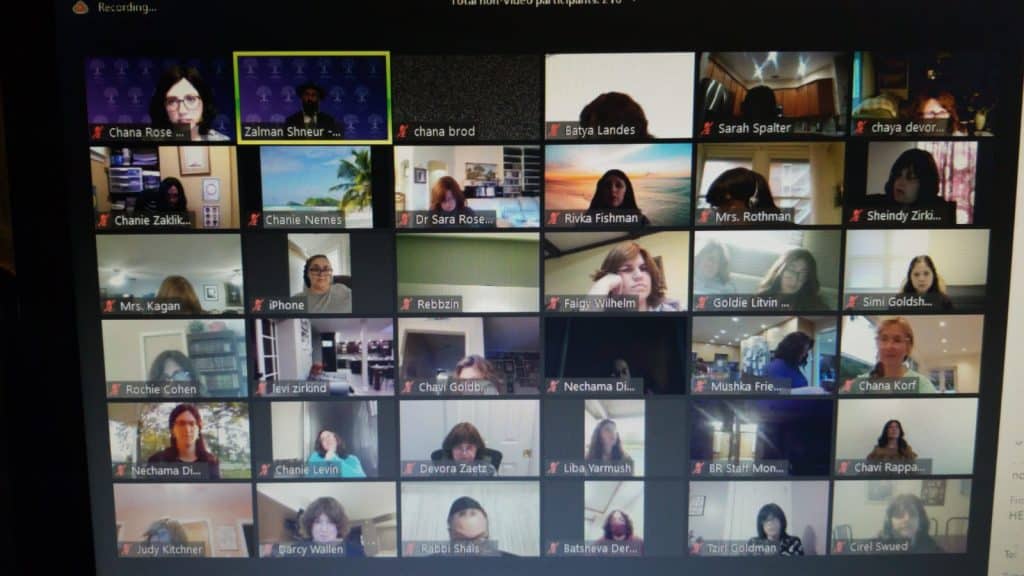 True to the theme of "Yisron Haor Min Hachoshech", many testified that there was something special about this Kinus that they hadn't experienced before. 
"The Kinus truly exemplifies that nothing is impossible," reflected Mrs. Itty Chazan, a teacher in Yeshiva Shaarei Zion, Queens. "Your entire dedicated staff reached into the times we are in, and designed a program to maximize our Shlichus."
The Ruchnius tone of the Kinus was set by the Vaad, comprised of esteemed Mechanchos Mrs. Chani Brod, Mrs. Batsheva Deren, and Mrs. Shana Teichtel. Morah Mashi Lipsker opened the Kinus with Chinuch inspiration from the Frierdiker Rebbe, and the auspicious date of the 15th of Av set the tone in Rabbi Shais Taub's keynote. Other presenters spoke about the 12 Pesukim and other Chinuch lessons from Torah and Chassidus, and Rabbi Menachem Mendel Gluckowsky "zoomed in" from Eretz Yisroel at the close of the program. 
"The presentations… gave us the tools for recharging our batteries, and returning to our chinuch shlichus re-energized with kochos based on our Torah and Chassidishe values," commented Morah Teichtel. The program concluded with a Pan Klali, written by Mrs. Deren on behalf of all Mechanchos, and read in a live-stream from the Ohel by Morah Brod. 
The Gashmius of the Kinus was also addressed, despite the challenges of doing so on Zoom. With creativity and determination, the Kinus committee, comprised of over twenty Mechanchos in Chabad schools, came up with ways to make the Kinus interactive, uplifting, and fun.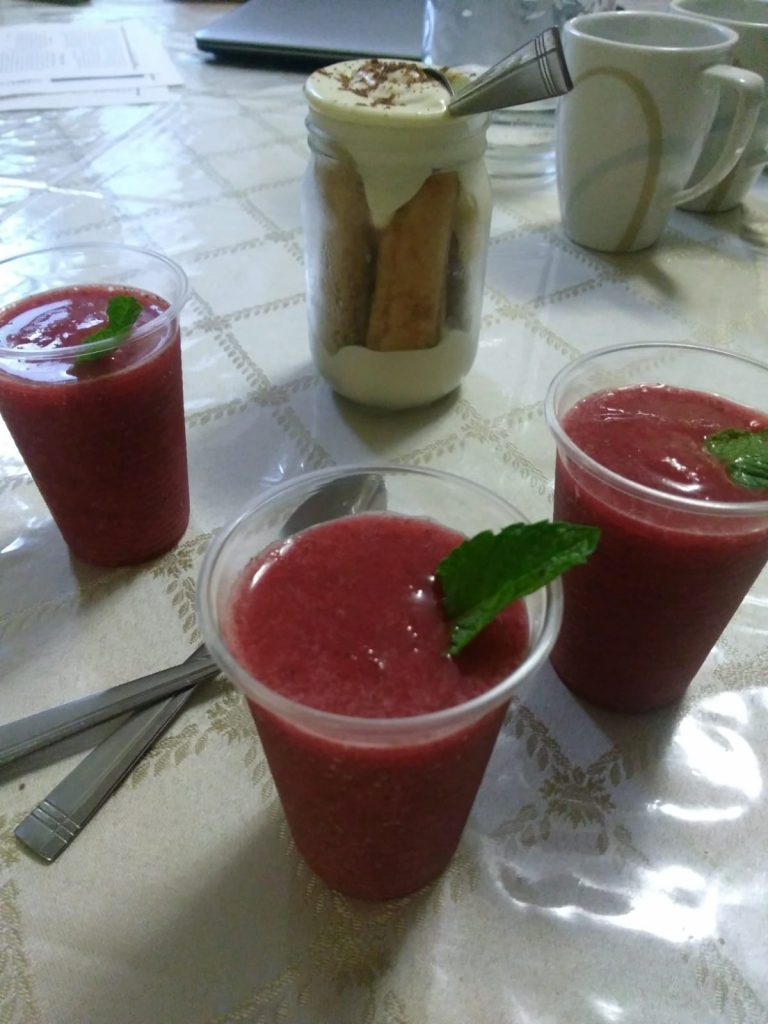 Mrs. Etty Teleshevsky, MEF's administrator, spent the weeks before the Kinus putting together and mailing special welcome packages to the first 200 Mechanchos who registered. The packages contained beautifully wrapped coffee and sweets, a scented candle for the Kinus theme, a program guide, suggested menu, and activities to keep small children busy during the Kinus hours. The banquet menu was brought to life in a food demo with Mrs. Sara Wolko of the Crave Haven at the Kinus itself. 
Kinus sessions included practical presentations on teaching successfully in a turbulent time, including panels by outstanding teachers called "Ready for Anything: Teachers Share Ideas for Both Online and In Person." Dr. Sara Rosenfeld shared student engagement techniques all the way from Melbourne, Australia, to keep learning active and interactive in any setting. Mrs. Ruhama Welcher joined from South Africa to present project based learning, as a way to bolster student independence and ownership, especially at a time like this. 
In a comprehensive early childhood track, chaired by Mrs. Devora Krasnianski of the Chabad Early Childhood Education (CECE) Network, the line-up included a live classroom tour of preschools around the country. For teachers of older students, Rabbi Yossi Jacobson shared how to answer thorny questions and Mrs. Dena Gorkin led a Mechaneches panel on "Reaching the Neshamos." Rabbi Dr. David Fox of Chai Lifeline's crisis intervention center shared valuable tips and insights into making the transition back to school in all age group, and several sessions focused on the teachers themselves, through tips for self care, time management, and more.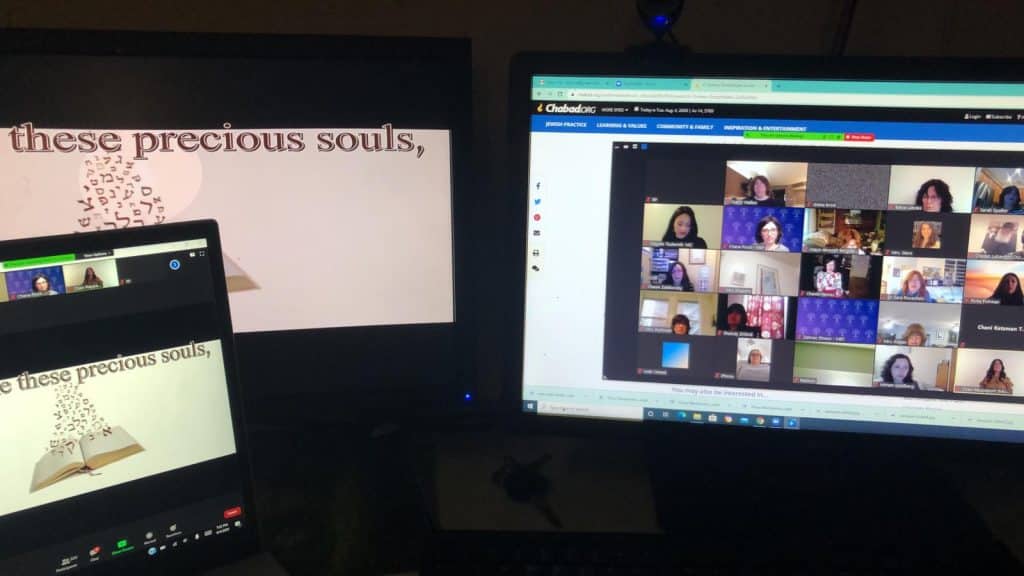 The highlight of the Kinus Mechanchos is always the Gala Chinuch Banquet, and this year was no different. Featuring musical tributes to teachers with Mrs. Chavi Rapoport and Mrs. Chaya Bracha Rubin, humor with a message from Mrs. Devora Ita Lewis, parent representatives thanking Mechanchos everywhere, Rabbi Shais Taub as keynote and Mrs. Chayale Tzukernik as MC… the Banquet uplifted, inspired, and united.
Following the Banquet, Chinuch focused farbrengens continued late into the night. Turning the Kinus into a "peulah nimsheches," many Mechanchos participated in a Chinuch BIngo game throughout the Kinus, receiving an exciting prize when they filled a row or full board with Hachlatos and practical take-aways.  "The incredible amount of work, dedication, creativity, purpose and meaning that went into every step of this fantastic Kinus is so greatly appreciated and will impact the world," shared Mrs. Esther Rochel Moscowitz, principal of Lubavitch Girls' High School, Chicago. "May it lead to the Geula now!" 
"The Rebbe's army of teachers is such an amazing, dedicated group of people, who do so much for our children," says Rabbi Zalman Shneur, MEF Founder and Executive Director. "To be able to be there to support them in their work is a tremendous zchus and honor."  
Up to four simultaneous sessions throughout the program left many Mechanchos wondering which to choose, but luckily, a dedicated tech team including Rabbis Dovid Weinbaum and Aaron Rabin ensured that all sessions were recorded to view later as well. While some of the highlights are available below for the public to enjoy, any educator who didn't sign up for the Kinus can still purchase all session recordings at MyMEF.org/Events/Kinus!