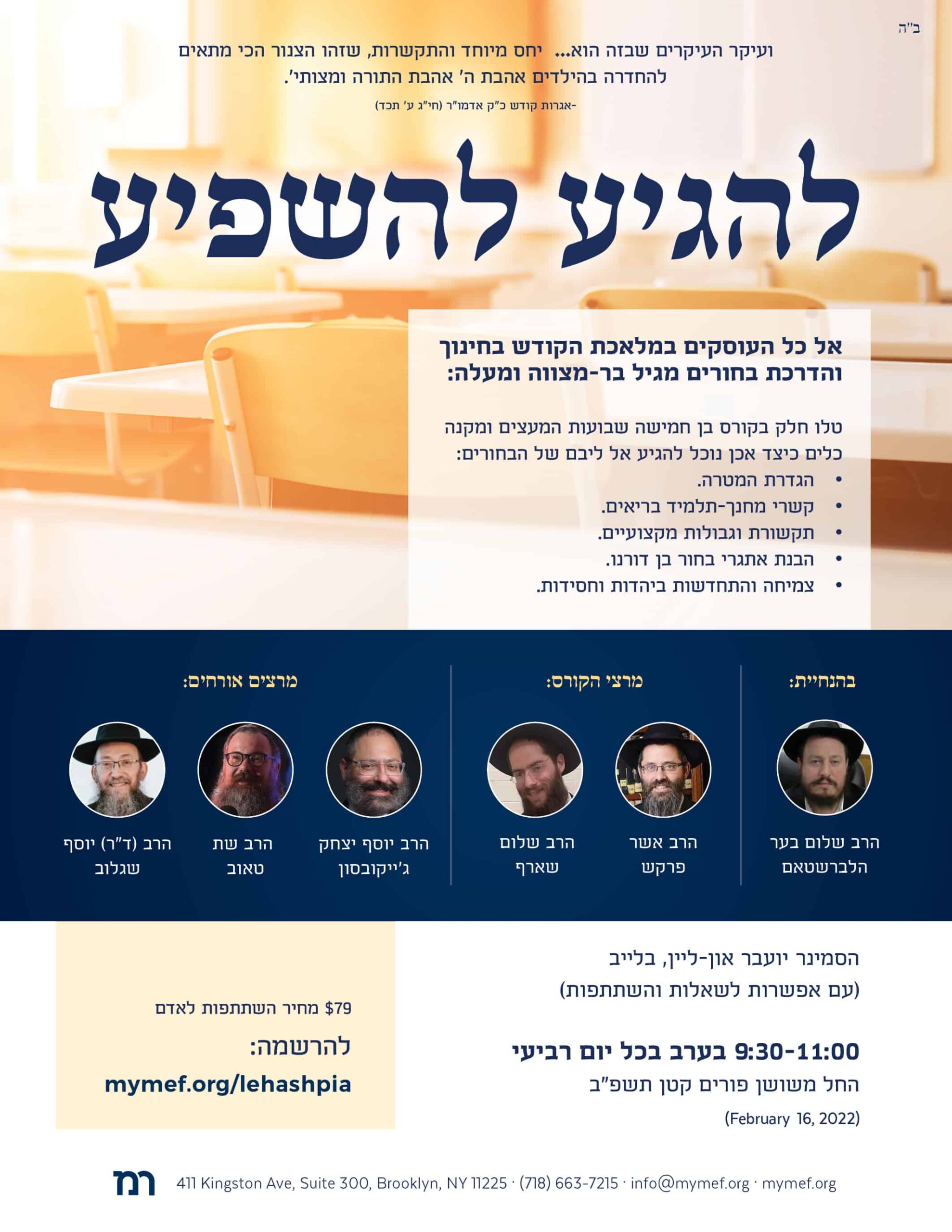 להגיע להשפיע
For all those in the Avodas Hakodesh of Chinuch V'Hadrocha of Bochurim from Bar Mitzvah age and up:
Take part in a 5 week course to give you the tools and empowerment to truly reach every Bochur.
This program is led by leading Mechanchim and Mashpiim, as well as guest speakers and professionals, empowering teachers to better navigate their students' contemporary challenges, mental health, emotional wellbeing, and above all to forge a strong and individualized relationship with each Talmid.
Program chaired by:
Rabbi Shalom Ber Halberstam, Menahel of Mesivta Lubavitch, Chicago
And presented by:
Rabbi Osher Farkash, Mashpia at Chabad Yeshiva of Buenos Aires, Argentina
Rabbi Sholom Sharf, Mashpia at Mesivta Lubavitch, Chicago
With guest presenters Rabbi (Dr.) Yosef Shagalow, Rabbi YY Jacobson and Rabbi Shais Taub.
Session 1: Tuesday – כ"א אדר א / Feb. 22 – Rabbi Osher Farkash
Session 2: Tuesday – כ"ח אדר א / Mar. 1 – Rabbi Sholom Sharf
Session 3: Wednesday – ו' אדר ב / Mar. 9 – Rabbi Shais Taub and Rabbi YY Jacobson
Session 4: Tuesday – י"ב אדר ב / Mar. 15 – Rabbi (Dr.) Yosef Shagalow
Session 5: Tuesday – י"ט אדר ב / Mar. 22 – Rabbi Osher Farkash
Special Bonus Session will be led by Rabbi Zalman Gopin about the uniqe Hashkafah of Reb Shlomo Chaim Kesselman A"H.
Taking place online, in live, interactive webinars.
9:30-11:00 PM EST
$79 per person – all five sessions included.
This online training program is intended to empower educators with the ability to meet students' non-academic needs. The objective is simple: that no student should fall through the cracks of our Chinuch, and that every student receives the learning experience and help that they need in their formative years.