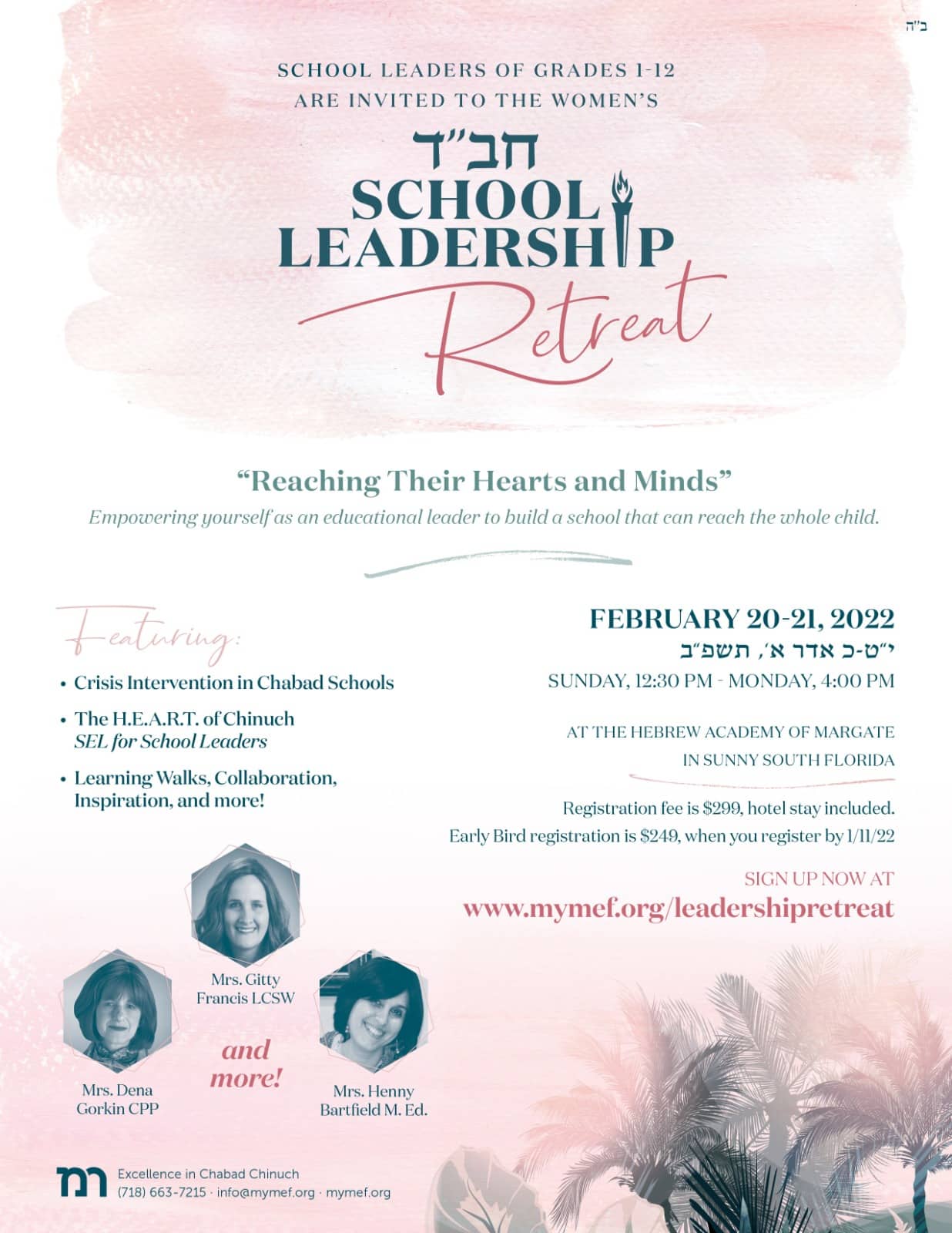 Women's Chabad School Leadership Retreat
Join the program to:
Hear from renowned Mechanchos and Menahalos
Gain tools and inspiration for your role
Connect and collaborate with fellow principals
Learning walks in Hebrew Academy of Margate
Enjoy a rejuvenating boost for your Shlichus
Hotel stay included in sunny South Florida
Presenters Include:
Mrs. Henny Bartfield MS Ed. has been a successful classroom teacher for more than twenty five years at Hebrew Academy of Margate, FL. Since 2014, she has achieved certification in a number of techniques in order to hone a multifaceted approach to student success, including Brain Training, Fuerstein Instrumental Instruction, and teacher coaching / mentorship. Mrs. Bartfield has developed a number of innovative curricula, and provides coaching and professional development to teachers worldwide. Mrs. Bartfield is currently an Educational Therapist, in addition to her work spearheading The H.E.A.R.T. of Chinuch, a new SEL program, at MEF.
Mrs. Dena Gorkin is the founder and principal of Bnos Chomesh Academy in Crown Heights. With a background in Special Education, a New York State certification in Substance Abuse Prevention Counseling, and over 35 years of experience, Mrs. Gorkin has impacted the lives of hundreds of young women and their families. She is also Director of Community Education at Operation Survival, and lectures on Chinuch and parenting worldwide. Mrs. Gorkin is now in her third year of leading the Teach and Reach / Mechaneches Training Program through MEF.
Mrs. Gittel Francis, LMSW, grew up in Crown Heights, Brooklyn and currently lives in Houston, Texas with her husband and children where they serve as Chabad Shluchim. Gittel is a member of the Behavioral Mental Health Service team at Jewish Family Service in Houston and manages the Mental Health First Aid program. She holds the title of national instructor in Adult and Youth Mental Health First Aid. In her role as community outreach social worker, Gittel provides trainings and lectures on a range of topics to increase mental health literacy. Gittel is a member of the clinical advisory board of the JLI teen suicide prevention program.
Pricing Options:
Full Retreat– Includes accommodations and two days of workshops and inspiration.
$249 Early Bird Special when you register before January 11, 2022
$299 Regular Price
*Add $75 for a single occupancy room option.
Day Program Only-Includes two days of workshops and inspiration WITHOUT accommodations.
$159 Early Bird Special when you register before January 11, 2022
$199 Regular Price
*Please Note: Registration closes February 13, 2022 – one week prior to the retreat.
View the full program schedule.