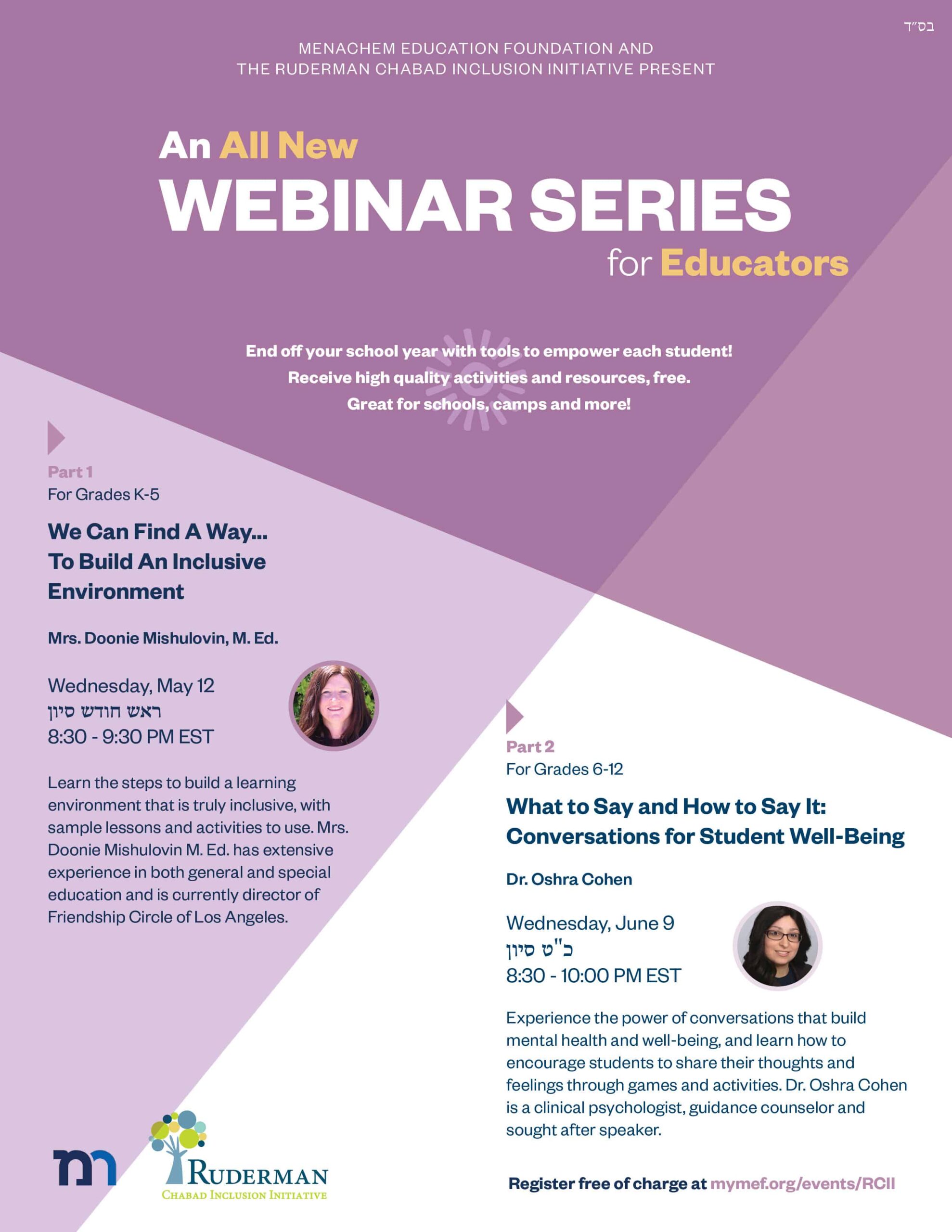 Inclusion and Mental Health Webinar for Camps, Schools
What happens when two organizations working tirelessly to champion the needs of every child get together? The answer is an all new webinar series, bringing high quality tools and resources on mental health and inclusion, geared toward the educators on the front lines of schools and camps worldwide.
This spring, the Menachem Education Foundation (MEF) and Ruderman Chabad Inclusion Initiative (RCII) are partnering to offer a two part webinar series, free of charge. These webinars are led by experts in the field of social-emotional well-being: Mrs. Doonie Mishulovin M. Ed., veteran educator and Educational Director of the Friendship Circle of Los Angeles; and Dr. Oshra Cohen, clinical psychologist, school guidance counselor and sought after presenter both live and online. The cherry on top? High quality, ready-to-use activities and resources created by RCII, that will be shared with educators who sign up for these sessions. 
"Because inclusion in the community truly takes a village and needs to happen in every environment, if we start with our kids our future will be even brighter," says Dr. Sarah Kranz-Ciment, Director of RCII. The two webinars will take place in the month of Sivan, an opportune time to bolster true achdus, starting on Wednesday, ר"ח סיון (May 12th).
Teachers, principals, counselors or directors can sign up free at www.mymef.org/events/rcii, and choose either one or both webinars to receive Zoom details and free resources. "The tools being provided are both creative, insightful, and easy to use," says Mrs. Chanah Rose, MEF's Educational Director. "We're so grateful that RCII reached out to make this available to every teacher and every child in our reach."