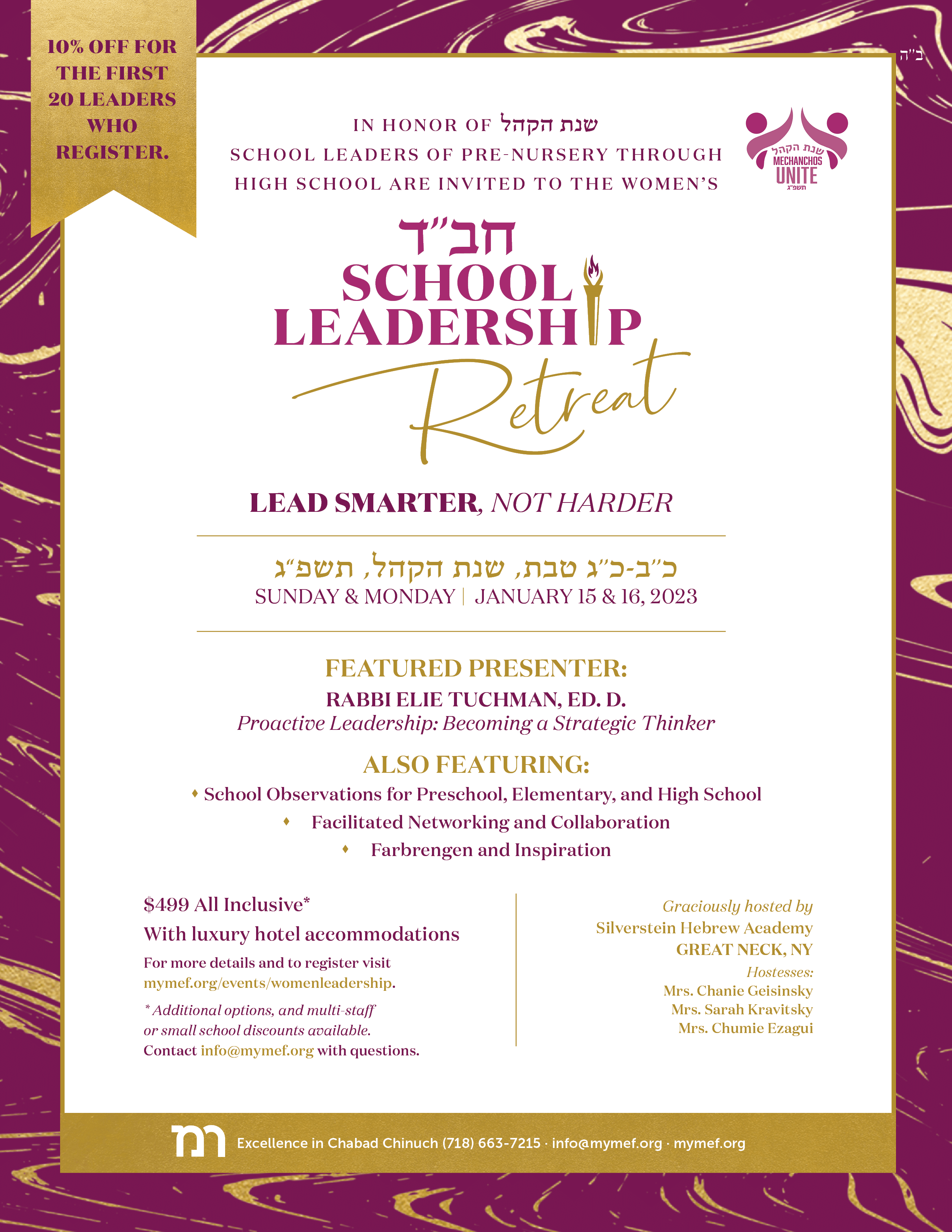 Chabad School Leadership Retreat
Women's Leadership Retreat: The first 20 Principals to sign up can receive 10% off by using the code "hakhel"
Shnas Hakhel 5783
We are looking forward to hosting you at this year's Leadership Retreat in Long Island!
This guide will be updated as information becomes available regarding the retreat. Feel free to check in periodically for updated information.
_____
Dates: January 15-16, 2023 | כ״ב-כ״ג טבת תשפ״ג
For: School Leaders of Pre-Nursery through 12th grade
Location: Great Neck, NY
Host School: Silverstein Hebrew Academy
Hostesses:
Mrs. Chanie Geisinsky, Associate Head of School

Mrs. Chumy Ezagui, SHA Program Director and Teacher Mentor

Mrs. Sarah Kravitsky, Early Childhood Director
Schedule:
The program will begin Sunday at 12 PM and will continue until Monday at 4 PM. Stay tuned for the exact schedule which will be announced as information becomes available.
Price:
With Hotel Accommodations:
$499/ person for double occupancy room

$574/ person for single occupancy room
Without Accommodations:
$399/ person for 2 days

$229/ person for 1 day



* Multiple staff or small school discounts available. Please email [email protected] for more information.
School Observations:
Preschool and Elementary Principals will observe Silverstein Hebrew Academy.
High School Principals will observe a local High School (location TBD).
Highlight Speaker:
Rabbi Eli Tuchman Ed. D.
"Proactive Leadership: Becoming a Strategic Thinker"
Back by popular demand, Rabbi Dr. Elie Tuchman is a highly respected Jewish educator with more than 30 years of experience in the field. Rabbi Tuchman is a sought-after speaker and consultant who works with schools and communities on issues of culture, leadership, educational excellence, and community development. Amongst his varied Chinuch positions, Rabbi Tuchman was most recently the founding Rosh HaYeshiva of Yeshivat Mekor Chaim in Baltimore.
Rabbi Tuchman will address the Chabad School Leadership Retreat on the topic of systems and strategies for optimizing your leadership.
Speaker
Rabbi Elie Tuchman Ed. D.