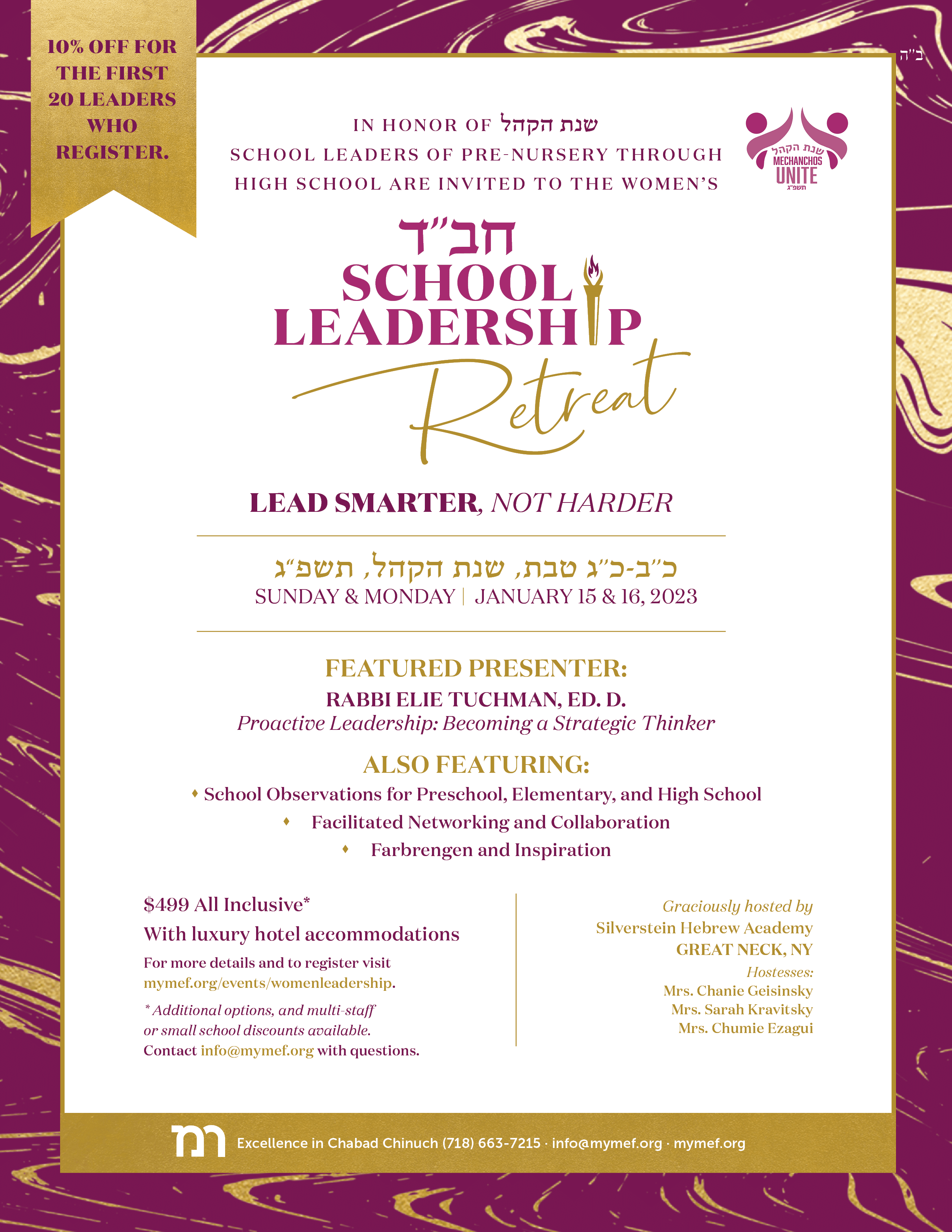 Chabad School Leadership Retreat
Women's Leadership Retreat: Registration Closes Friday, January 6
Shnas Hakhel 5783
We are looking forward to hosting you at this year's Leadership Retreat in Long Island!
This guide will be updated as information becomes available regarding the retreat. Feel free to check in periodically for updated information.
_____
Dates: January 15-16, 2023 | כ״ב-כ״ג טבת תשפ״ג
For: School Leaders of Pre-Nursery through 12th grade
Location: Great Neck, NY
Host School: Silverstein Hebrew Academy
Hostesses:
Mrs. Chanie Geisinsky, Associate Head of School

Mrs. Chumy Ezagui, SHA Program Director and Teacher Mentor

Mrs. Sarah Kravitsky, Early Childhood Director
Price:
With Hotel Accommodations:
$499/ person for double occupancy room

$574/ person for single occupancy room
Without Accommodations:
$399/ person for 2 days

$229/ person for 1 day



* Multiple staff or small school discounts available. Please email [email protected] for more information.
Schedule:
The program will begin Sunday at 12 PM and will continue until Monday at 4 PM. The following schedule will be updated as further program details are released:
Sunday:
12:00 PM: Welcome – Brunch and Greetings with Rabbi Tuvia Teldon, Regional Director of Chabad of Long Island
1:00 PM: "Proactive Leadership: Becoming a Strategic Thinker" An in-depth seminar in three parts, with Rabbi Elie Tuchman, Ed.D.
1:00 – 2:15 PM – What is Strategic Thinking?

2:30 – 3:45 PM – Strategic Planning

4:15 – 5:45 PM – Strategic Operations – "I Never Signed Up to Be a Firefighter"
6:00 PM: Hakhel Banquet Enjoy being treated b'gashmius and b'ruchnius, along with words of inspiration, and networking with other school leaders.
Greetings from Rabbi Yosef Geisinsky,
Director of Chabad of Great Neck and Dean of Silverstein Hebrew Academy
8:00 PM: Hakhel Leadership Panel: "One Team, Three Takes" With Mrs. Chanie Geisinsky, Mrs. Chumy Ezagui and Mrs. Mushkie Lipsker
9:00 PM: Return to Hotel
Monday:
8:00 AM Breakfast and Tefilla
9:30 AM Transportation to Schools
10:00 – 11:30 AM – School Observations
Early Childhood: Silverstein Hebrew Academy – Preschool

Elementary and Middle School: Silverstein Hebrew Academy

High School: Tichon Meir Moshe
11:30 AM – Transportation to Chabad House
12:00 PM – Lunch and Debrief
1:30 PM – Workshops Divided by Grade Level
Early Childhood: "Seeing the Child Behind the Behavior" with Ms. Shaina Baumgarten
Elementary and High School: "Nurturing Inner Greatness" with Mrs. Sharon Richter
3:30 PM – Closing Remarks, Packed Dinner To Go
4:00 PM – Connecting to our משלח – Trip to the Ohel (We will arrive at the Ohel at approximately 4:30. Feel free to make your travel arrangements directly from there.)
Hotel Information:
We have secured a limited number of rooms at the boutique Great Neck Inn. Once these rooms are full, guests will be booked at other hotels in the area. Sign up early to secure your spot!

Presenters and Sessions:
"Proactive Leadership: Becoming a Strategic Thinker" with Rabbi Dr. Elie Tuchman, Ed. D.Rabbi Tuchman addressed the Kinus Mechanchos Chabad and has provided professional development and mentorship to numerous Chabad schools and leaders. He will address the Chabad School Leadership Retreat on the topic of systems and strategies for optimizing your leadership, including time management, problem solving and long term thinking.
Part 1: What is Strategic Thinking?

Learn about its definition and its value, and how to shift your mindset to think in terms of systems & possibilities.

Part 2: Strategic Planning.

In this session, turn your new mindset into the ability to actually plan values based, long term school improvement strategies.

Part 3: Strategic Operations – "I Never Signed Up to Be A Firefighter." Learn how to turn your proactive, strategic approach into more effective reactions to day to day crises, and how to manage the myriad tasks thrown at a principals' desks without losing sight of the big picture. Learn time and priorities management to put your strategic approach into practice.
Rabbi Dr. Elie Tuchman is a highly respected Jewish educator with more than 30 years of experience in the field. Rabbi Tuchman is a sought-after speaker and consultant who works with schools and communities on issues of culture, leadership, educational excellence, and community development. Amongst his varied Chinuch positions, Rabbi Tuchman was most recently the founding Rosh HaYeshiva of Yeshivat Mekor Chaim in Baltimore.
Hakhel Leadership Panel: "One Team, Three Takes" With Mrs. Chanie Geisinsky, Mrs. Chumy Ezagui and Mrs. Mushkie Lipsker. In this panel, three members of the SHA leadership team share their perspectives, tips and strategies on the 3 Cs of school leadership: Connection, Collaboration and Communication. Experience a leadership model where different grade levels and leadership roles work together symbiotically, while learning how to extend this spirit of Hakhel to the rest of your school.
Mrs. Chanie Geisinsky is the Associate Head of School of SHA. She is a veteran Shlucha in Great Neck, and sets a tone of both empathy and professionalism in her school. She has presented at the Kinus Mechanchos Chabad and the Prizmah conference, and is sought after by other principals on leadership questions.
Mrs. Mushkie Lipsker M. S. Ed. is a longtime educator with experience in various grade levels, online and in person. She is currently a Shlucha to Adelphi University, and after teaching for many years in Silverstein Hebrew Academy, she is currently the Curriculum Director at the Jewish Online School as well. Mushkie runs the Ever Growing Educator, a social media channel for sharing Chinuch tips and inspiration, and gives workshops around the country.
Mrs. Chumy Ezaguie is a master educator and Shlucha at Lake Success Chabad. She plays a key role in the SHA administration, and is also the program director, social media director, and teacher mentor. She has engaged parents and the wider community in her creative and targeted programming, and advises on various areas of school leadership both within her school and beyond.
"Seeing the Child Behind the Behavior" with Ms. Shaina Baumgarten
Ms. Shaina Baumgarten has been teaching preschool for 20 years, in schools across New York and New Jersey. She currently teaches at Silverstein Hebrew Academy in Great Neck, NY. Shaina is passionate about finding a way to connect to every child on their level, and helping children, parents and teachers better understand themselves so they can better understand others.
"Nurturing Inner Strength" with Mrs. Sharon Richter
Mrs. Sharon Richter has been the Lower School Associate Principal of Judaic Studies at Salanter Akiba Riverdale Academy (SAR) since 2005. She has been teaching and leading for over 35 years, and took part in YULead, a nine month intensive school leadership training. Sharon conducts classes and workshops for parents and school leaders, most recently at the Prizmah Conference.
Parking: There will be plenty of parking available.
Speaker
Rabbi Elie Tuchman Ed. D.