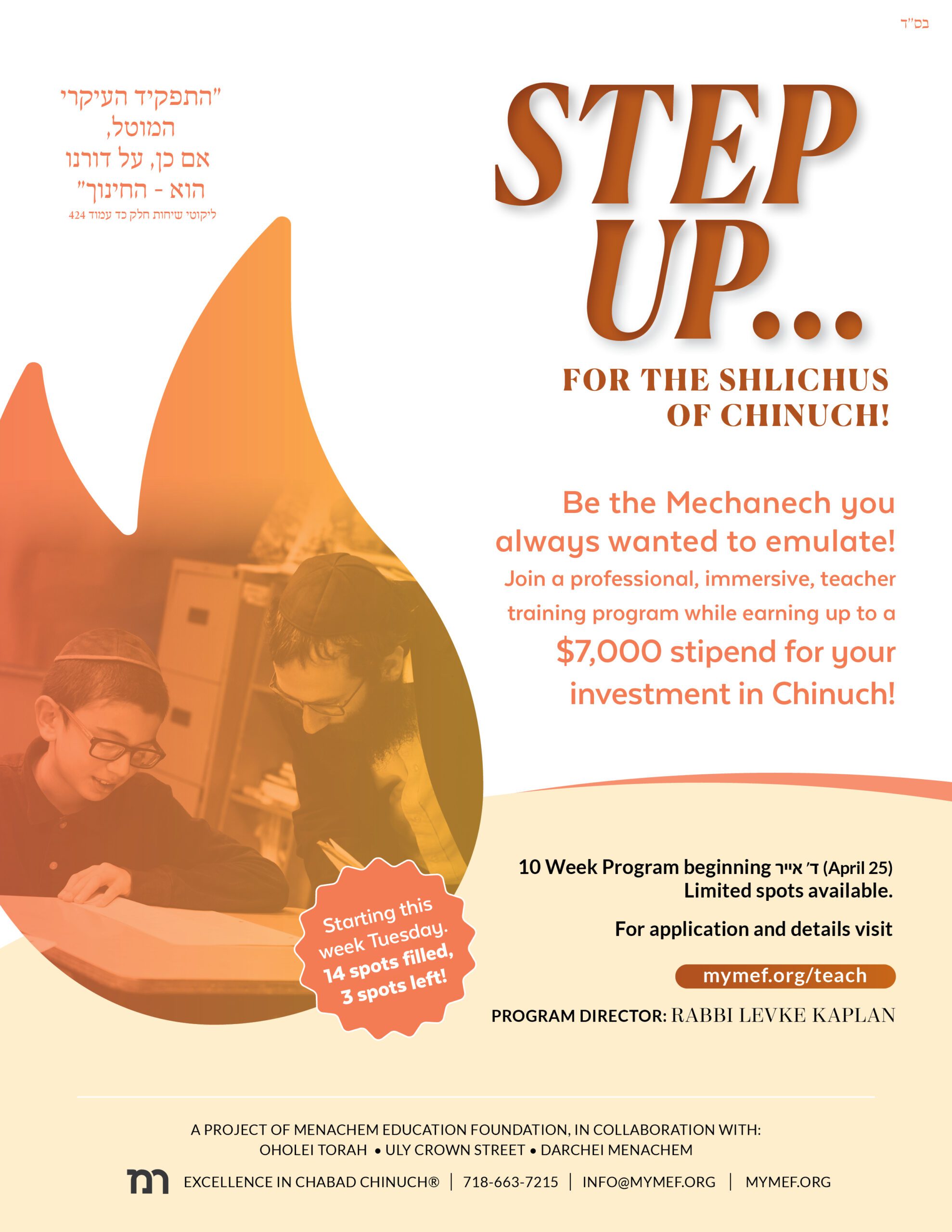 Step Up for Chinuch!
Announcing a unique opportunity this spring to:
Gain immersive experience in the

classroom

Receive high quality teacher

training

Learn from the

best teachers

in Lubavitch

Benefit from individual

mentorship

Gain assistance in finding your first

Chinuch job
All while being paid up to $7,000 for your dedication to Chinuch!*
In collaboration with Oholei Torah and United Lubavitch Yeshiva, this program is directed by Rabbi Levke Kaplan, Menahel of Cheder Chabad Monsey.
The 10 week program for aspiring Melamdim includes:
Classroom Observations and teaching in the mornings

Mentorship and Teacher Training Courses 2 evenings each week

All classes taking place in Crown Heights

Pre1A through 8th Grade

Taking place ג׳ אייר – י' תמוז (April 25-June 29)
For a detailed outline of the program and for all current updates, please see the Program Guide by clicking here.
The Teacher Training presenters include Rabbi Levke Kaplan, Rabbi Mendy Blau, Rabbi Binyomin Ginsberg, Rabbi Zalmen Raskin, Rabbi Zelly Silber and, Rabbi Yossi Simpson. Plus guest speakers on the topics of Chassidishe Chinuch, Mental Health and much more.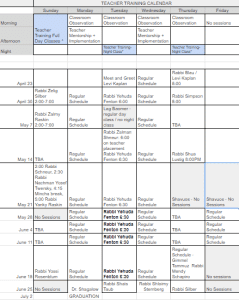 *Stipends are limited and will be awarded on a discretionary basis from MEF. The full $7000 stipend will be awarded primarily to participants currently enrolled in an active Kollel, and who will become a Chinuch Shliach along with their wife for the 5784/2023-24 school year, through MEF's Shlichus placement department. Please reach out to [email protected] for more information.