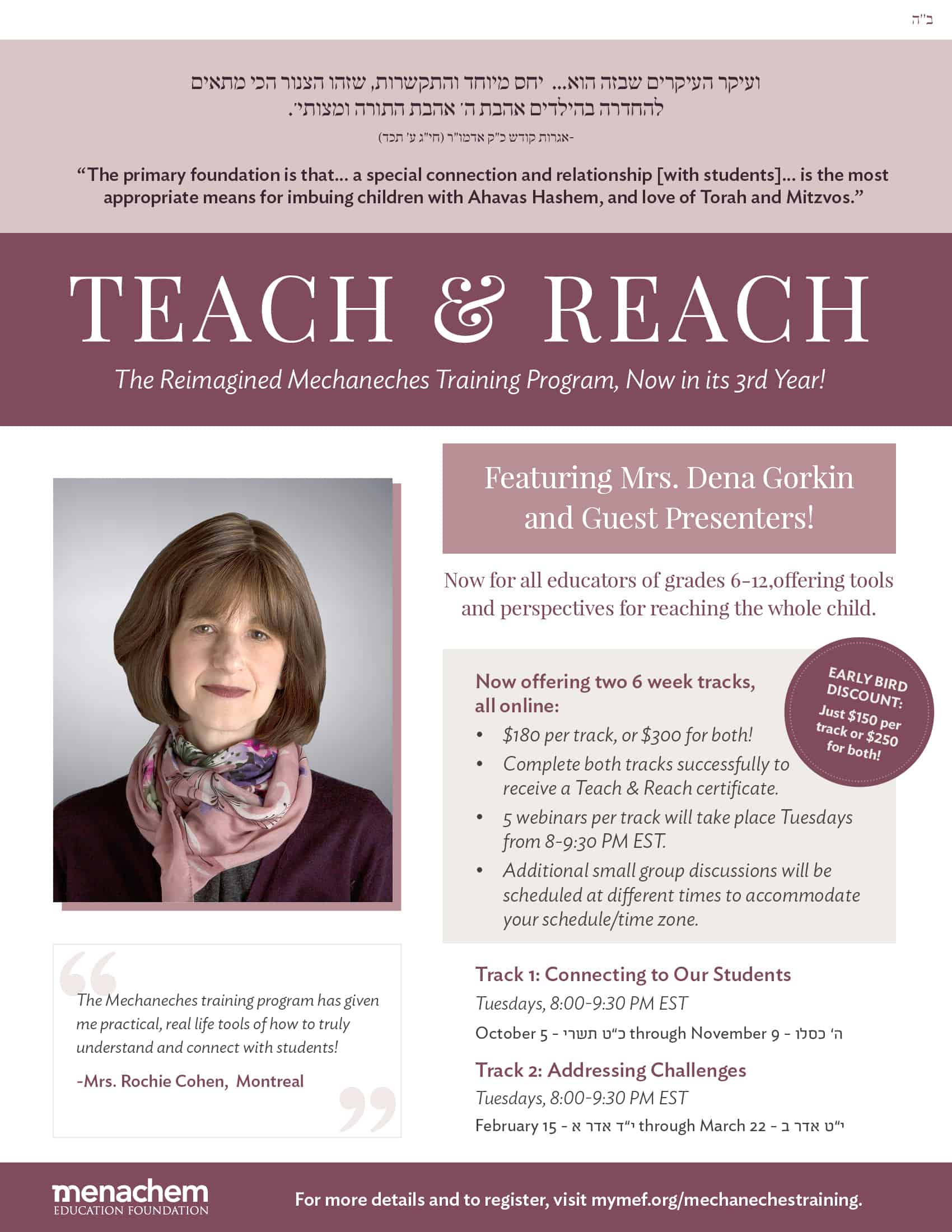 Teach & Reach
Please note the Change of Date: Track 2 to begin Feb. 22 / כ"א אדר א
Scroll down for details. (Track 1 registration is closed.)
Have you heard of the Mechaneches Training Program, but…
Could not commit for a full year program
Are not an official Mechaneches
Live in a different time zone
Or weren't sure if the full program was for you?
Then now is the time to join our new and improved program, "Teach and Reach!"
Now offering two separate tracks of six weeks each.
Open to all women educators of grades 6-12, including teachers of Limudei Kodesh and Limudei Chol, administrators, Shluchos and more!
Offering synchronous and asynchronous options so you can view webinars on your time zone, as well as participate live in small group discussions that will be scheduled in two or more slots to meet your scheduling needs.
Choose one or both tracks based on your interests, level of experience and availability.
This online training program is intended to empower educators with the ability to meet students' non-academic needs. Through webinars, individual and small-group mentoring, and follow up, participants can explore the range of social-emotional needs that students have and how to best serve them. While intended as a supplement for basic teacher training in academics and pedagogy, not a student or replacement, the objective of this program is simple: that no student should fall through the cracks of our Chinuch, and that every student receives the learning experience and help that they need in their formative years.
Mrs. Dena Gorkin CPP is the founder and principal of Bnos Chomesh Academy in Crown Heights and Director of Community Education at Operation Survival. With a background in Special Education, a New York State certification in Substance Abuse Prevention Counseling, and over 35 years of experience, Mrs. Gorkin has impacted the lives of hundreds of young women and their families. Mrs. Gorkin started out on this path as a Mechaneches in Bais Rivkah High School, and is passionate about helping Mechanchos attain the tools and mindsets needed to reach every student. She is sought after for workshops, lectures and consultation throughout the country, and has presented extensively for the Menachem Education Foundation and other organizations.
Track 1: Connecting with All of Our Students (Registration Closed for Track 1)
From October 5 – כ"ט תשרי through November 9 – ה' כסלו
Week 1: Forming and Maintaining the Relationship

Week 2: Professional Communication and Boundaries

Week 3: Building Resilience and Self-Esteem, and Small Group Discussions

Week 4: Helping Students Succeed – Social and Academic Support

Week 5: Building Yiddishkeit and Chassidishkeit

Week 6: Small Group Discussions and follow up
Track 2: Addressing Our Students' Needs and Challenges
PLEASE NOTE THE DATE CHANGE TO Feb. 22 – כ"א אדר א through April 5 – ד' ניסן.
Week 1: Kids in Pain

Week 2: Reaching Different Personality Types

Week 3: Mental Health Overview and Small Group Discussions

Week 4: Recognizing and Addressing Trauma

Week 5: The Ongoing Connection- Keeping in Touch

Week 6: Small Group Discussions and follow up
Webinars per track will take place Tuesdays from 8-9:30 PM EST. Small group sessions will be scheduled with two or more options to best meet participants' needs.
Guest presenters in previous years have included Dr. Rona Novick and Mrs. Zahava Farbman LMSW. Program calendar and topics subject to change.
$180 per track, or $300 for both!

Early Bird discount: just $150 per track or $250 for both!

Early Bird registration closes on Sunday, September 19 – י"ג תשרי.

Complete both tracks successfully to receive a Connection Program certificate.