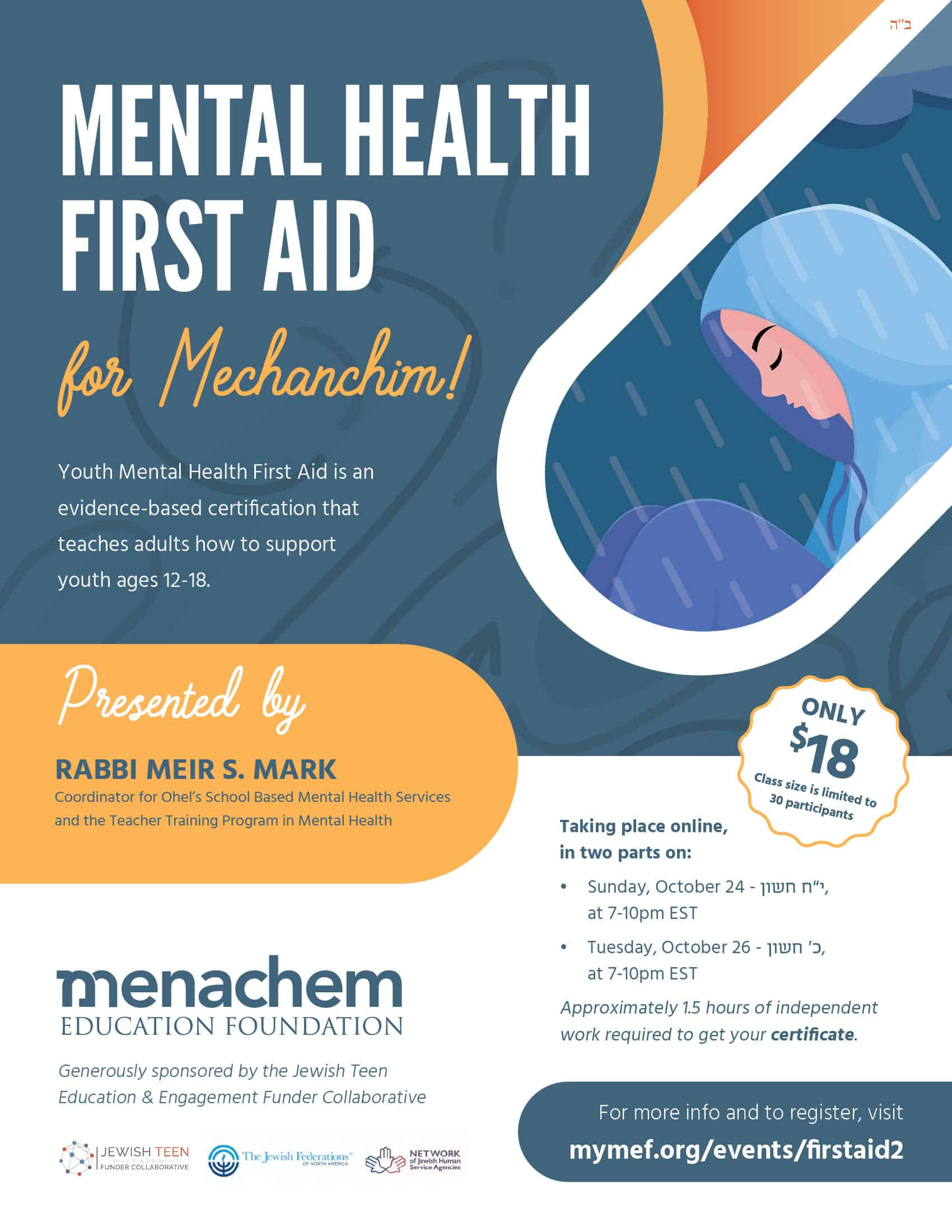 Mental Health First Aid for Mechanchim
Youth Mental Health First Aid teaches adults how to identify, understand and respond to signs of mental distress and substance misuse in youth.
In collaboration with the Jewish teen funder collaborative, MEF is now pleased to offer this vital opportunity to Chabad educators!
The course consists of:
Approximately 1.5 hours of independent work prior to the course.
A 3 hour live, interactive webinar on Sunday, October 24 – י"ח חשון at 7-10PM EST.
A 3 hour live, interactive webinar on Wednesday, October 26 – כ' חשון at 7-10PM EST.
A 5-10 minute online assessment after the course.
Please note: Due to the sensitive nature of the course materials, there will be no recordings. Please sign up only if you can attend live (online) at the times specified.
The subsidized cost of joining this course is just $18 per person.
Upon completing the course, participants receive mental health first aid certification, valid for three years.
Participants will be mailed a youth mental health manual for continued reference after the course.
Class size is limited so sign up today!
Registration will close either when the class fills up, or one week before the course
Rabbi Meir S. Mark is currently a coordinator for Ohel's School Based Mental Health Services and the Teacher Training Program in Mental Health. He is a graduate of McGill University and has completed course work toward his Ph. D. in Cognitive Psychology from the University of Colorado, and currently supervises 8 licensed social workers in 20 schools. In addition to other certifications, Rabbi Mark also holds an Advanced Certificate in Rational Emotive Behavioral Therapy from the Albert Ellis Institute and is a trained instructor for Youth Mental Health First Aid USA.