Women's Leadership Conference


January 28, 2019




10:00 am - 5:00 pm

Women's Leadership Conference


January 29, 2019




9:00 am - 4:00 pm
What: Two days of collaboration, networking, professional development and growth for school leaders.
For Whom: All women in positions of Chabad school leadership, including principals, assistant principals, curriculum directors, and other supervisory roles.
Where: Beis Levi Yitzchok, Crown Heights, Brooklyn
When: January 28, 2019 – January 29, 2019, 22 Shevat 5779 – 23 Shevat 5779
Monday: 9:30 am – 5:30 pm, Tuesday 8:45 am-3 pm ending at the Ohel.
Theme
Communication: the Cornerstone of Effective Leadership
This two day program will explore communication skills as they apply to your students, staff, and school community.
Featured Presenters: Rabbi Yossi Rosenblum, Rabbi Shais Taub, Mrs. Nami Friedman, and more!
Program Elements: Workshops, structured networking, school visit, panel discussion, curriculum exchange, individual mentoring, and more!
Program Cost
Early Bird Discount: $150 for the 2-day program
Regular Pricing: $180 for the 2-day program
School Discount: for more than one participant per school, the cost is discounted by an additional 10% per person (10% off for two principals, 20% off for three principals, etc.). Please contact us at [email protected] / 718-663-7215 to process this discount.
Price Per Day:

Monday only – $125
Tuesday only – $75

Do you require babysitting? Please let us know in your registration so that we can email you the details.
Planning Committee
Mrs. Nami Friedman, Yeshiva Schools of Pittsburgh, PA
Mrs. Chanie Geisinsky, Silverstein Hebrew Academy, NY
Mrs. Sara Rosenfeld, Beis Chana High School LEC, FL
Download the full program schedule here: Leadership Conference Schedule
Session Details:
Day 1: Monday כ"ב שבט / Jan. 28
9:30 AM – 5:30 PM
at Beis Levi Yitzchak, 556 Crown Street
1) "Beyond the Wall of Resistance" with Rabbi Yossi Rosenblum
As a leader, there will be many times when you want to introduce change in your school – and are met by resistance on the part of students, teachers or the community at large. This workshop provides a formula for successfully overcoming resistance, exploring the five "touchstones" of: clear focus, embracing resistance, respect, relax and joining in.
2) "Building Open Communication With Your Staff" with Rabbi Yossi Rosenblum
As the one responsible for guiding your teaching staff to do what's best for your students, you need to have an open and honest relationship that allows for you to give feedback and guidance when needed. This workshop focuses both on building positive relationships with your staff, and effectively communicating what needs to be improved.
3) "Communicating with Our Students" Rabbi Shais Taub
As school leaders, we aim to set a tone of warmth and positivity on the one hand, and firm structure and standards on the other. How do we communicate with our students in a way that balances both?
4) "Observation and Feedback" with Mrs. Nami Friedman
As an instructional leader, your most powerful tool is classroom observations in order to help teachers grow. In this workshop, learn the practical skills for observing a teacher at work, gathering objective data, and communicating it to the teacher effectively. (These skills will be put into practice and honed on Day 2, through Learning Walks and the debrief that follows.)
Mentorship: Sign in sheets will be available for consultations with:
10:00 AM – 12:45 PM Dr. Sara Rosenfeld and Mrs. Chani Geisinsky
1:45 PM – 5:30 PM Rabbi Yossi Rosenblum and Rabbi Shais Taub (each when not presenting).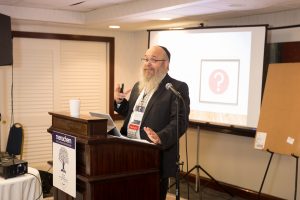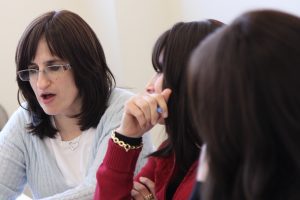 Day 2: Tuesday, כ"ג שבט / Jan. 29
8:45 AM – 3:00 PM
1) School Visit / Learning Walk
Observe a selection of classrooms of different grade levels, to practice observation techniques and learn from master teachers. A debrief will follow, in which you will hear more about the school model from its leadership, and share your own reflections about what you observed as well as the process itself. 
Elementary School: Yeshiva Shaarei Tzion, Queens
View elementary classrooms in action incorporating smart board technology, project based learning and cooperative learning techniques.
Hear From the Principal, Mrs. Razel Nissim: "The Rebbe's Horaos on Chinuch"
High School: Bnos Chomesh Academy
Participate in a nurturing school environment where Chassidus is brought to life, and dynamic teachers aim to reach every girl in their care.
Hear From the Principal, Mrs. Dina Gorkin: "Meeting the Non-Academic Needs of Every Child"
2) "Curriculum Exchange" Networking Session
Schools work hard to develop their own curriculum and source effective resources that they can use. In this timed networking structure, discover the curriculum treasures within each participating school, and share your own for other leaders to benefit from.
3) Ohel Trip and Program Conclusion
Conclude the Leadership Conference by reconnecting to the Rebbe and Rebbetzin in honor of כ"ב שבט, gaining strength and inspiration for your Shlichus of Chinuch.
The full cohort will be starting the day in Crown Heights and concluding at the Ohel.  All transportation will be provided, including for those who are returning to Crown Heights at the end of the day.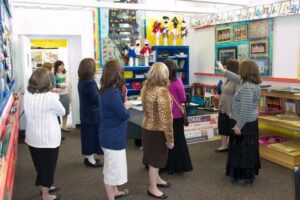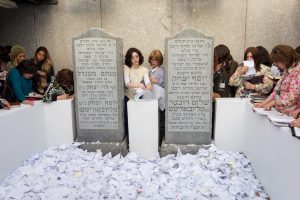 About the Presenters
Rabbi Yossi Rosenblum is widely esteemed educational consultant and principal of blue-ribbon winning Yeshiva Schools of Pittsburgh, PA. Rabbi Rosenblum steers the content and development of the Zekelman Standards and co-directs MEF's Chabad School Leadership Program. He has been training and coaching school leaders since 2009.
Rabbi Shais Taub is a sought-after speaker and has traveled all over the United States and Israel giving classes and lectures, leading retreats and serving as scholar-in-residence. Rabbi Taub is the author of several acclaimed works elucidating the principles of chassidus including the groundbreaking teaching tool, The Map of Tanya.
Mrs. Nami Friedman has been a teacher of nearly every grade level for more than twenty years, and has served as assistant principal in Yeshiva Schools of Pittsburgh, PA, since 2014. After training in the Chabad School Leadership Program and the Lookstein Principal Program, she has seen success in cultivating her teachers' growth through effective observation and feedback.