Kinus Mechanchos Chabad 5780


August 4, 2020 - September 30, 2020




11:00 am - 1:30 pm
Welcome to the Kinus Mechanchos Chabad… re-imagined for the times we live in!
Enjoy over 20 workshops to choose from, with offerings from Early Childhood through High School, while refreshing yourself with sessions and amenities that are just for you!
This year's כינוס מחנכות will take place using fully interactive Zoom technology, we hope and pray in Yerushalayim with the coming of Moshiach now.
The educator price for the entire Kinus is $18, through Friday, July 31 / 10 Menachem Av.
If you register by Friday, July 24 / 3 Menachem Av, you will also receive your free Kinus welcome package in the mail! (Due to Covid delays, the package will only be sent in the continental U.S. at this time. Please be sure to provide your summer address.) 
Guests and friends of Chinuch are welcome to enjoy the Kinus Banquet! Visit mymef.org/events/banquet to enjoy and support Chinuch at the same time!
Can you only come to part of the Kinus, or want to view sessions that are taking place simultaneously? No problem – registration gives you free access to all recordings after the Kinus as well.
Please note – if you see the "Success!" screen upon completing registration, your registration has gone through. You will receive a personal confirmation email from our office within a few days of registering. (For International Registrants – Select either U.S. or Canada in the drop-down menu, but fill in the country you are actually from in the space provided for city.)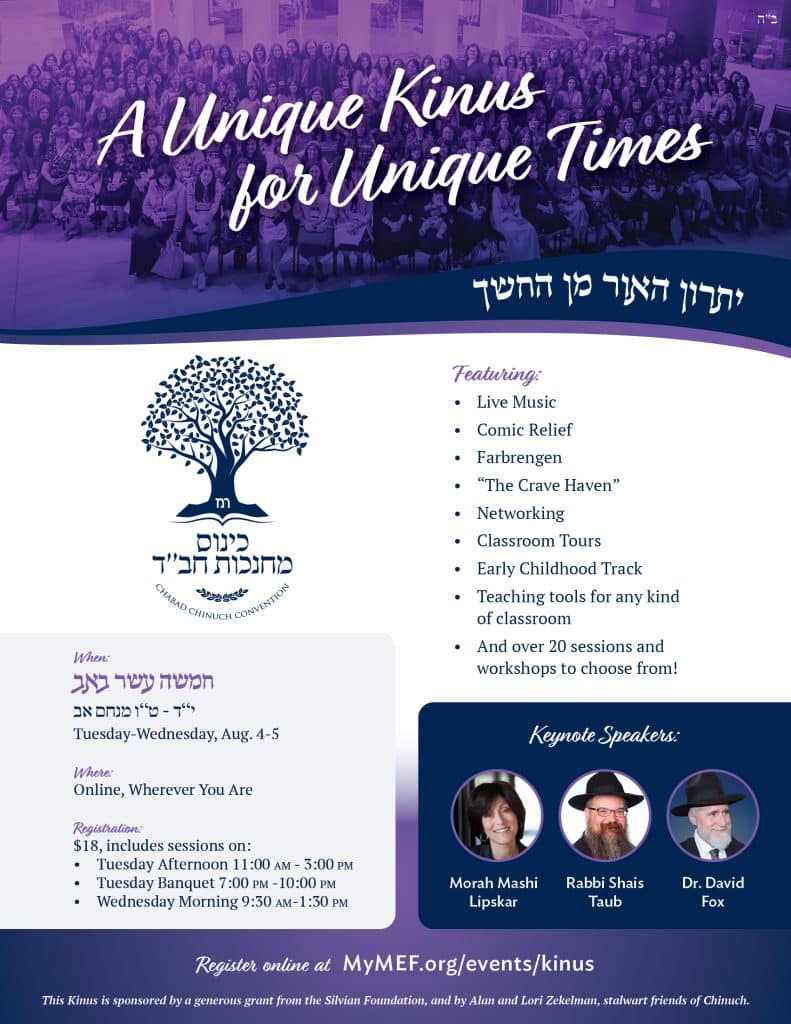 Kinus Theme:
יתרון האור מן החשך:
Mining the treasures within our current challenge,
to find ways to emerge as stronger Mechanchos.
The Kinus takes place on חמשה עשר באב, a day when we rebound from the three weeks with greater light and joy than ever before.
Kinus Schedule:
Tuesday, י"ד מנחם אב – August 4th:
Kinus Sessions: 11:00 AM – 3:00 PM EST
Kinus Banquet: 7:00 PM – 10:00 PM EST
Wednesday, ט"ו מנחם אב – August 5th:
Kinus Sessions: 9:30 AM – 1:30 PM EST.
A detailed schedule of sessions will be posted here.

Kinus Features:
Opening Session: Morah Mashi Lipskar – "Teach, Motivate, Inspire"
Closing Session: Dr. David Fox – "Post Pandemic Dos and Don'ts"
Banquet Menu brought to you in a live demo with "the Crave Haven"
General Tools and Inspiration:
"Caring for the Teacher Means Caring for the Students: Practical Self-Care" Mrs. Gitty Francis LMSW
"Juggling 101: Time Management for Busy Mechanchos" Mrs. Gitty Rosenfeld
"One Challenge, Many Reactions: Understanding Our Students' Personality Types and How We Can Support Them" Mrs. Dena Gorkin
"The 12 Pesukim: 12 Steps for Chinuch" Mrs. Miriam Laufer
School Leadership:
"Your Role As Learner to Effectively Lead Your School" Mrs. Devora Krasnianski
"Penimi: Cultivating Meaningful Communication with Students" Mrs. Faigie Zelcer
Principal Networking and Collaboration
Early Childhood:
"Zoom In / Zoom Out: Five Secrets of Chinuch" Mrs. Geulah Newman
"Scroll Up: Torah Based Strategies and Structures" Morah Chanie Feldman
"The Big Picture is in the Little Details: Helping Our Youngest Children Thrive" Mrs. Estee Lieblich MS Ed
"Bridging the Gap in Learning Post-Covid" Mrs. Sarah Chuzhin MS Ed
Live Classroom Tours
Grades 1-2:
"Low Tech Engagement Tools, Online or in the Classroom" Dr. Sara Rosenfeld
"Moving Our Students Toward Independence: Project Based Learning" Mrs. Ruhama Welcher
"The Questions They Ask: How to Approach Our Teens' Thorny Issues" Rabbi YY Jacobson
"Reaching Neshamos: The Mechaneches Panel" Moderated by Mrs. Dena Gorkin, with Mrs. Devora Leah Smith and Mrs. Rochie Cohen
"Ready for Anything: Teachers Share Ideas for Online and In-Person" Elementary: Mrs. Henny Bartfield and Mrs. Miriam Gerber
"Ready for Anything: Teachers Share Ideas for Online and In-Person" High School: Mrs. Mushky Steinmetz and Ms. Chaya Zirkind

"The Coffee Schmooze: Structured Networking in Grade Level Breakout Rooms"
Kinus Banquet:
MC: Mrs. Chayale Tzukernik
Keynote – Rabbi Shais Taub "Tu B'Av: Uncovering Each Child's Potential"
Live Music with Mrs.

Chavi Rappaport

and Mrs. Chaya Bracha Rubin
"The Lighter Side" with Mrs. Devora Ita Lewis
Surprise Presentation
Farbrengen: Mrs. Sharon Saul MS, Pittsburgh, PA – "When the Going Gets Tough"
Farbrengen: Mrs. Fruma Ita Shapiro, Los Angeles, CA – "Living and Teaching Geulah"